We recommend using the Citizen CT-S310II Receipt Printer
In order to set up the receipt printer so that it works successfully with IRIS, you need to install the receipt printer, add the receipt printer to the computer, adjust the printer preferences and then setup in IRIS.
- INSTALL RECEIPT PRINTER:
Download and run your installation file. (Click Continue on any Windows 7 UAC prompts)
Click NEXT on the Welcome screen.

Select the I accept the terms of the license agreement radial and click NEXT.

Click INSTALL to begin the installation.

On the port selection screen choose USB if using the USB interface, or LPT1 if using parallel. In this example, the printer will be installed using the USB interface. Click OK.

Click INSTALL THIS DRIVER SOFTWARE ANYWAY.

Click FINISH when the installation is complete.
- ADD RECEIPT PRINTER:
Plug the receipt printer into the computer. If using the USB interface, a bubble will appear on the system tray. Be patient while Windows configures the printer. If using the parallel interface, you will need to restart the computer to complete installation. Then go to Start > Devices and Printers.
Click ADD A PRINTER.

Click ADD A LOCAL PRINTER.

Choose Use an existing port, and choose USB001 (Virtual printer port for USB). Click NEXT.

Under Manufacturer, select CITIZEN. Under Printers, select CITIZEN CT-S310. Click NEXT.

Type a printer name in the window and click NEXT.

Click PRINT A TEST PAGE to verify that the printer has installed successfully.
Click FINISH to complete.
- ADJUST PRINTER PREFERENCES
Navigate to the Windows Control Panel > Printers. Right-click on the Citizen CT-S310 and select Properties.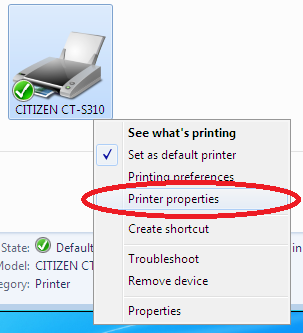 2. On the General tab click PRINTING PREFERENCES.
3. Click the ADVANCED button.
4. Click the plus sign (+) next to Printer Functions. Also click the plus sign next to Cash Drawer #1.
5. Click the OPEN AT: option and change it to ALWAYS. Click OK.
6. Click OK on the Citizen CT-S310 printing preferences window, and click OK on the Properties window. Close the Control Panel.
- SETUP RECEIPT PRINTER IN IRIS:
To setup your receipt printer in IRIS, first click on the ADMIN ICON on the top RIGHT of the screen.

Click on the TOOLS button on the top LEFT of the screen.
3. Select SYSTEM SET UP from the TOOLS drop down menu.
4. Select the POINT OF SALE tab from the LEFT side of the system set up window.
5. Select STATION SETUP button from the point of sale tab.
6. Click on Receipt Printer and select from installed printers on your computer.