To import customers, first click on the ADMIN ICON on the top RIGHT of the screen.

Click on the TOOLS button on the top LEFT of the screen.
Select SYSTEM SET UP from the TOOLS drop down menu.
Select the CUSTOMERS tab from the LEFT side of the system set up window.
Select IMPORT CUSTOMERS button from the customers tab.
First, download the Excel file. Click DOWNLOAD THE CUSTOMER TEMPLATE. The file will download to your computer. If you have Microsoft Excel on your computer, it will automatically open the file.
The file shows on the first row a sample of what needs to be in each cell. Add your customers info, name, address, phone, email, etc.
Once all your customers are added to spreadsheet, Fill out as much as you can. Then save the file onto your desktop.
Once you have made the updates on the Excel file and saved it on your desktop, select how you will import the file. You have 2 options:
1. Add customers to the database without deleting or updating customers you may already have added in the database.
2. Update customers - updating existing customers only.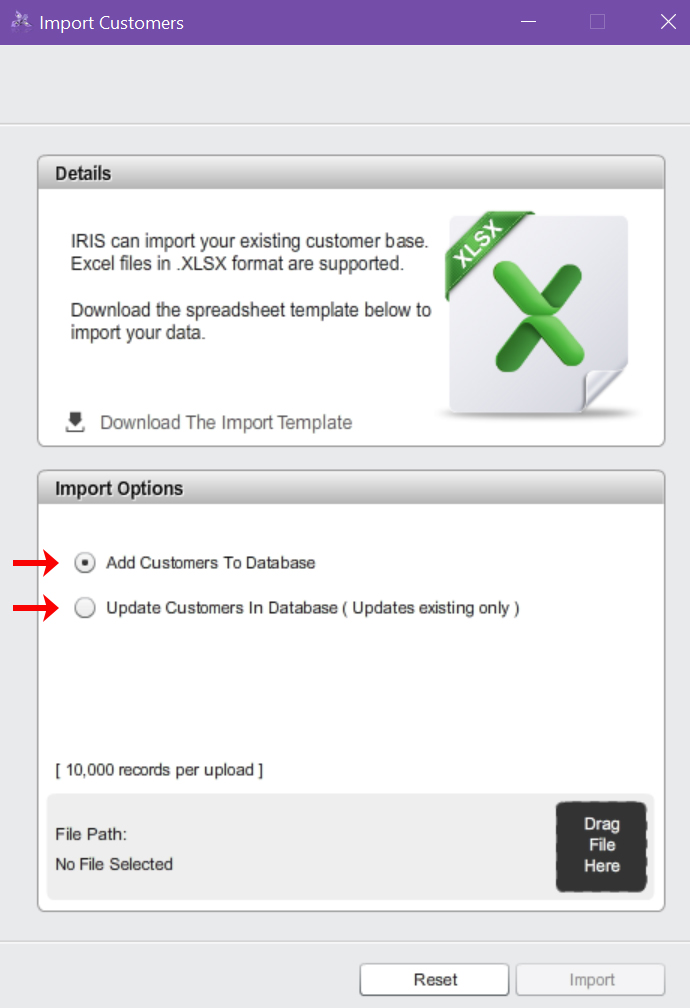 Once you have selected the button then you should drag the Excel file to where it says DRAG FILE HERE.
IRIS will check the file and if it is correct you will see FILE IS READY TO IMPORT.
When complete, click IMPORT.